I have a liking for vintage cartoons and have spent a lot of time hunting for them in vintage magazines and newspapers, where they usually reisde prior to the birth of the komiks form. IThrough the years , I have acquired hundreds of interesting titles and I would like to share some with you from time to time (or if my time would permit me).
Here are some vintage cartoon strips from the early 1920s. Published in an obscure news-magazine called "Telembang" these strips are entitled "Si Kiko at Si Angge", a husband and wife comedy which antedates Kenkoy at Rosing for about seven years.
A cartoon strip which satirized the political issues of its era, the "Kiko and Angge" comic strip was written by Tagalog novelist Inigo Ed Regalado, and hilariously illustrated by the young Fernando Amorsolo, National Artist for the Fine Arts. it also reflected the life of the Filipinos during that era when the Philippines was still occupied by the United States.

Here are some of the earliest ones found in my collection: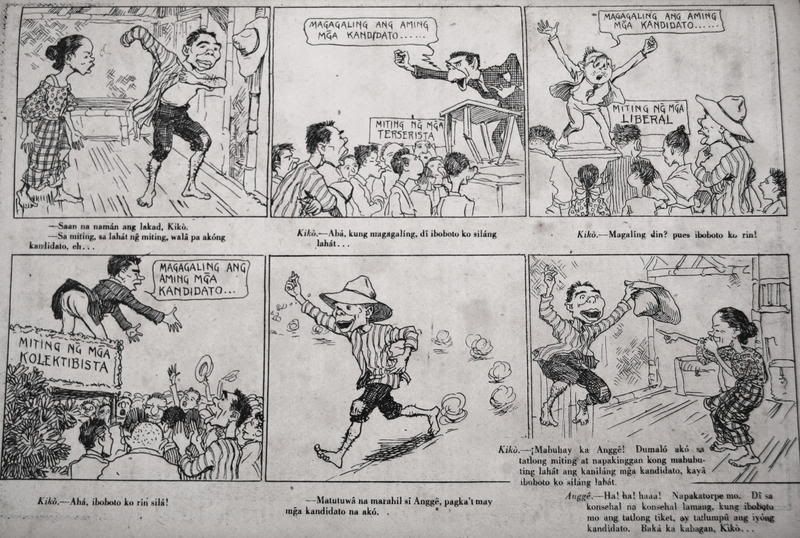 You can see here that even at that early time of Philippine politics, many politicians are already making into campaign "fever" for their respective candidates against their opponents. Some Filipinos, however, like Kiko, are too naive to even notice this. (It should be noted that Filipinos were allowed then to vote only for Senators and Representatives. The country was still ruled then by the American Governor General)
To understand this period cartoon, one must first know the context of socio-political background of the 1920s era. During that time, the Filipinos longed to have the United States grant Philippine independence. The Filipino leaders at that time, such as Quezon, Osmena and Aguinaldo, were sent to the United States to discuss hilippine independence from the the U.S. with the American PresidentHarding. Funded by public donations, these travels of Filipino leaders to the United States were known as "The Philippine Mission", the mission to acquire our independence. Yet, as this cartoon shows, some Filipinos believed that it would just be a waste of time, and that the "mission" will just spend the public fund for their personal luxuries and sightseeing.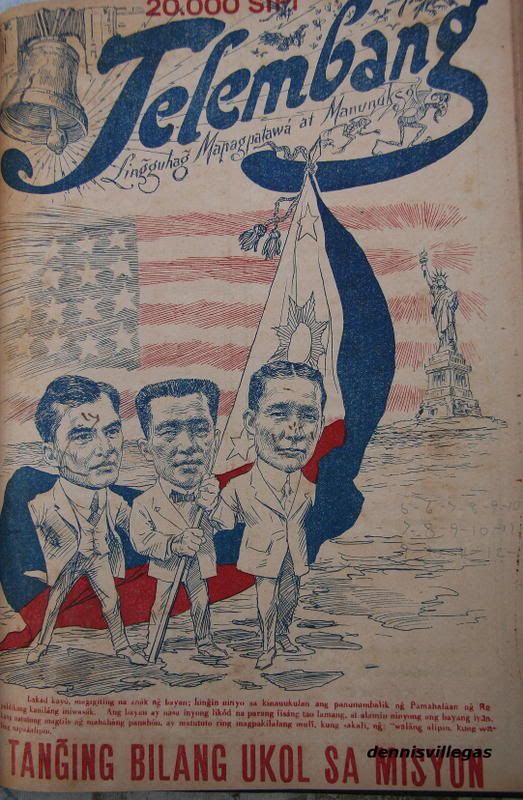 This is a typical cartoon cover of the Telembang, a biting satirical Tagalog newsmagazine of the 1920s. No wonder it was hounded by libel suits so that a few years later, it was forced to close down.