Whenever I gaze at the pages of Voltar, I often wonder at the sheer magnitude of Alfredo Alcala's power. I would then shake my head in utter disbelief of how an illustrator could be able to capture so dramatic a composition even the most talented photographer could fail to capture in real life.
From my conversations with several of Alcala's friends and contemporaries, I gathered that Alcala often preferred to be alone while drawing his comics. He would shut himself for several days, often with only a few hours of sleep in between, in order to create the comics masterpieces that he became famous for.
In those days, Alcala was known as the most indefatigable Filipino illustrator. He would churn out at least eighty pages of comics pages in a week's time. The quality never suffers though, as evidenced by the innumerable classic artworks that have come out from his brush and ink in almost the same time.
Alcala's classic works in Philippine comics like
Voltar, Guerrero, Barracuda, Tres Ojos, Okleng, Cuatro Vidas, Kasaysayan ng Paglipad, Battleship Yamato,
and so many more bore the real essence of the master's idiosyncrasies. He could put himself into any era and for sure there will be no mistake in costumes, atmosphere and ambience. The drawings are so all intricately rendered you wondered wether they were in fact, artworks of Gustave Dore's engravers.
Certainly no other Filipino artist could duplicate the great energy of Alfredo Alcala. Indeed, he is a loner, as some of his contemporaries may say, but it is because he was the only one who could do what he was able to do.
For your viewing pleasure, here are some of his immortal pages from the Voltar serialized novel that was published in his own comic book,
Alcala Fight Komix
in 1964. Alcala's Voltar predates Howard's Conan in comics form, and it is, according to the Comic Book Artist Magazine "
one of the most magnificent adventures to have been written and drawn in comics".

I would like to thank my friend Manuel Auad of Auad Publishing for the gift of several original Alcala pages, including a very nice original Voltar page shown in the last image below. Manuel Auad is the writer of Alcala's Voltar (and the Buccaneers of the Skull Planet) that had been published by Magic Carpet in 1977. Thanks so much for your thoughtfulness, Noli!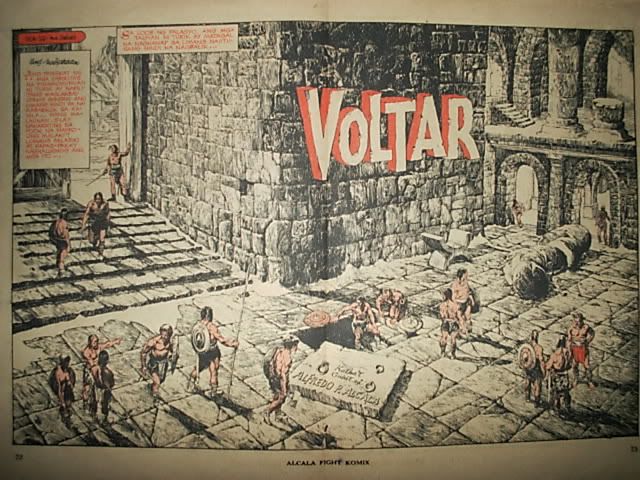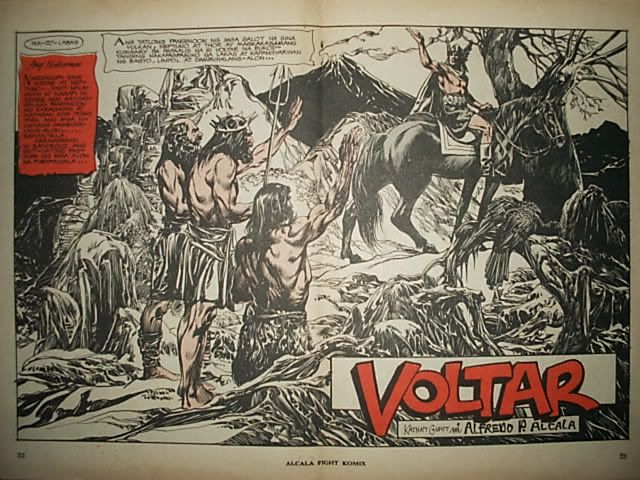 A gift from Mr. Manuel Auad, publisher of Auad Publishing. Thanks so much Noli!